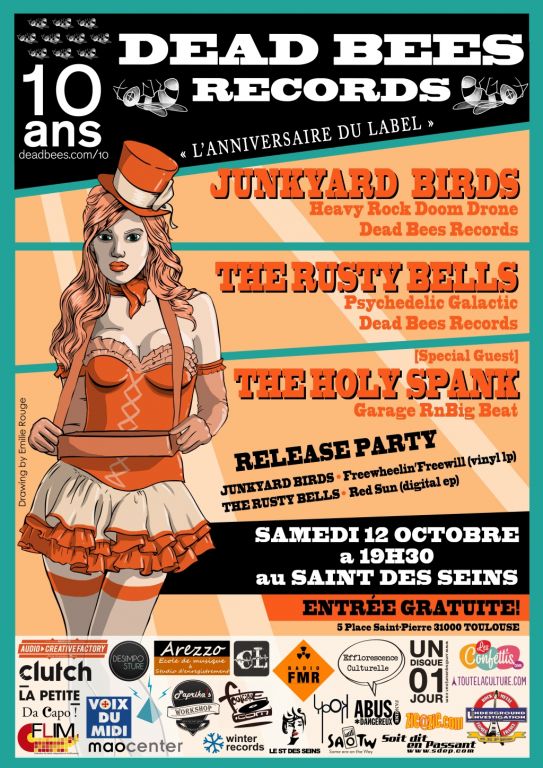 Pour la petite histoire cet événement est possible grace à nos amis les Rusty Bells qui se sont associés à un événement prévu par the Holy Spank au Saint des Saints (Toulouse) que nos Spankers seront présent pour les 10 ans du Label Toulousain Dead Bees Records, et c'est un honneur pour nous tous d'être associé à cet événement!!Et ceci d'autant plus après cette période de sommeil difficile qui nous a conduis à prendre des decisions loin d'êtres évidentes, mais je laisse notre Bidwix vous raconter l'histoire dans sa rubrique!
Nous tenons à remercier particulièrement Pierre pour sa confiance et pour ce projet superbe qu'est Dead Bees Records, qu'il dirige avec classe et conviction!
Je tiens aussi à remercier Jeremy avec qui j'ai travaillé pour cet événement, et avec qui j'ai partagé quelques angoisses, et quelques moments de fous rires!
Merci à tous nos partenaires! Sans qui nous n'aurions pas eu autant de choix dans la définition du projet!
Merci à Bastien du Saint des Saints!
Guillaume.
Facebookhttps://www.facebook.com/events/486514148111251/?fref=ts
RELEASE PARTY & FREE ENTRANCE
Le label Toulousain Dead Bees Recordsfêtera tera ses 10 années d'existence le samedi 12 octobre 2013 au Saint des Seins.

Partenaires de la soirée: La Voix du Midi, Clutch Magazine, Radio FMR, Emission La Yohimbine, Studio d'Enregistrement Arezzo, Paprika's Worshop, La Petite, Desimposture, Capitole-Live Fédération des Labels Indépendants de Midi-Pyrénées, Radio Vinyl 2.0, Foutraque, Ecole de Musique Da Capo, Le Saint des Seins, Mao Center, Efllorescence Culturelle, Audio Creative Factory, Sdep.com, Un Disque 01 Jour, Underground Investigation Webzine les Confettis, Webzine Toute la Culture, Zicazic.com, Winter Records, Ecole de Musique Arezzo, Ypok, Abus Dangereux, Some Are on the Way

Site :
http://www.deadbees.com/

Start : 19h30

-------------------------------------------------------------------------------

* JUNKYARD BIRDS - « Freewheeling Freewill » Vinyl LP (Dead Bees Records)
Hard Rock Doom Drone - http://junkyardbirds.free.fr/
For years the JUNKYARD BIRDS haunt backstages and venues, providing a total in-your-face rock'n roll experience to the audiences, blasting speakers and breaking strings for the everlasting pleasure of your bleeding ears !
With such rock anthems like Fibula Fibroïd, She's a Witch, No Fuck Tonight and Smell My Ass, still deep-rooted in the black mud of Blues, be sure my friend that the JUNKYARD BIRDS play every gig like it's the last on the edge of the end of the world !!!!


* THE RUSTY BELLS - « Red Sun » Digital EP (Dead Bees Records)
Psychedekic Galactic - http://www.therustybells.com/
The sound of bells has the power of exorcism and purification. In some countries it is even associated with that of thunder. Our three henchmen peddle this belief. They bang hard galactic rock tinged with a fuzz and sweat.
The psychedelic trio offers a look at our two-color perceptions. Sometimes the confusion and emotion, sometimes anger and lust for life.


* THE HOLY SPANK - Special Guest
Garage RnBig Beat - http://holyspank.free.fr/
Un groupe énergique de garage rock aux riffs ravageurs qui vous colle au plafond. « Chuck Berry, Iggy Pop, AC/DC, The Jim Jones Revue et Joy Division qui se mettent sur la gueule ! » est la définition préférée de The Holy Spank.
Le groupe a pour caractéristique la bonne humeur qu'il fait partager à son public, possibilité offerte à The Holy Spank grâce à l'expérience bien trempée de chacun des musiciens. Le groupe a la réputation d'effectuer des sets énergiques en emportant le public avec lequel il aime s'amuser.
La devise du groupe avant de monter sur les planches : « Le risque nous fait voir la mort, et gouter la vie ! »
Oyé Oyé
Nous sommes fier de vous présenter notre carnet de bord ambulant : Mister Bidwix gratteur de papiers en freelance.
Il nous suit partout (ou presque…) pour mieux vous servir et nous épier.
Il écrira notre route, il sera vos yeux là où vous ne pourrez pas être :Repet, avant concert, post concert, il est même autorisé à nous défoncer si il le souhaite.
Bref, merci à Mr Bidwix et bienvenue à toi et gratte bien ! On te laisse la plume.
Merci, et allez bosser bande de feignasses !
Allez, c'est partit : mon premier post sur la Dynamo est ici : http://holyspank.free.fr/index.php?article6/la-dynamo-22-janvier-2013-on-attendait-beaucoup-trop-ce-concert
The Holy Spank et Mr Bidwix.
Rédigé par administrateur le 05 décembre 2012 | Classé dans Accueil
Bienvenue sur nôtre site officiel les SPANKERS !
Une nouvelle étape est franchie avec la construction de ce site.
Cette étape c'est vous qui nous l'avez faite franchir, c'est votre enthousiasme, votre soutien, vos cris…
C'est lorsqu'on vous voit jumper sur ''BAD GIRL BRAIN'', quand on vous entend faire les chœurs sur ''CONDOM GENERATION'', ou encore lorsque vous entonnez ''WASTED TIME'' tous ensemble, que l'on s'est dit qu'il était temps de vous inviter à entrer sous le toit de The Holy SPANK.
Ici toutes les informations sont libres ! Pas de publicités, pas besoin d'envoyer un invitation ou autre poke pour prendre contact avec nous, il vous suffit de cliquer sur « CONTACT » et de nous donner des nouvelles ou de nous indiquer que vous souhaitez que l'on vous inscrive dans la mailing list pour recevoir les infos directement dans votre box personnelle !
Vous avez la liberté d'écouter et de vous balader dans notre univers. Sachez enfin que vous pouvez accéder à ce site par votre mobile, vous aurez accès aux informations en temps réel, aux off des concerts, studios, tournées, répétitions et surtout aux nouveaux morceaux dés qu'ils sortiront !!!
On espère que vous êtes aussi enthousiaste que nous à l'idée de partager tout ça ensemble !
SPANK YOUR LIFE !